Recently we had the honor of meeting up with Theresa Rogers Matthews, owner of the Greenwich, CT Horseneck Wines and Liquors, in Northern California for a rare opportunity to visit a number of wineries and learn about the intricacies that go into vineyard management and the winemaking process.  For several unforgettable days we tasted, toured, dined on farm fresh cuisine and got the VIP treatment across the region.  Here are five incredible stops you have to make the next time you plan a day visiting Napa Valley wineries:
Stop #1: Chateau Montelena Winery in Calistoga.  Take note, THIS is the winery that put California on the wine world map back in 1976 at the Paris Tasting. That now infamous event was the inspiration behind the (fictionalized) movie Bottle Shock (a must see for any wine lover) and is truly one of the most beautiful and oldest wineries you will find on the west coast.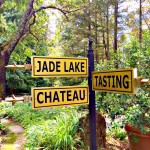 With a tasting room in a stone castle and its own serene Chinese garden and lake, the winery, established in 1882, is a spectacular way to start your day. Read up on the history of Chateau Montelena and check out tasting and touring the estate options here. You will not be disappointed!
Stop #2: Venge Vineyards is owned by master winemaker Kirk Venge, son of Nils (who's known for producing the first 100 point rated Cabernet Sauvignon when he worked at Groth). Venge is on a stunning piece of land in the northern part of Napa Valley, just south of the town of Calistoga. Their wines are always made in modest quantities (total production is under 4000 cases annually) and typically sell out very quickly. However, for a relatively small winery, they do make a wide variety of wines — if you can find them. Your best bet is to schedule a tasting three to four weeks in advance if it's a weekend (note: they only take 20 people a day) and ship or take some with you. You'll love the relaxed deck/living room atmosphere and may have to grab a bottle or two of "Scouts Honor" (named after Venge's first winery dog), a popular, primarily Zinfandel Blend. If you want to experience a true wine lover's winery, you won't want to miss this one.
Stop # 3: The grand staircase leading up to the dramatic Domaine Carneros château will be a welcome sight at this point in your day for at least two reasons. First of all, even though it was built in 1989, the chateau is inspired by the elegant French 18th century home of Champagne Taittinger and second of all, this is one of a few Napa wineries that's permitted to offer tableside wine tastings with food pairings. Enjoy artisan cheeseplates and caviar while indulging in a cold glass of sparkling Brut Rose or pinot noir on the terrace or in the salon. Plan a minimum of ninety minutes at this stop, which will help tide you over until dinner and hopefully not be too long to subject yourself to the high tourist traffic that you may encounter at this popular destination.
Stop #4: Bouchaine is the oldest continuously operating winery in the Carneros District.  Like Venge, this is a special find where you'll want to take your time and try as many vintages as possible. Referring to themselves as a boutique winery, Bouchaine produces 22,000 cases a year and offers a welcoming, family-owned vibe. After getting a private tour of the vineyards, either on one of their trucks or a self-guided walking tour, taste their spectacular wines with a few pairing afternoon nibbles that will ensure your need to bring a few bottles home (ask for the wine snaps).  And here's the big takeaway: if you aren't a Chardonnay lover, you just may leave this place rethinking that!
Stop #5: Torc in downtown Napa for dinner.  Finally, a real meal.  All we can say is, when you check out the menu you'll be glad you worked up an appetite.  According to Chef Sean O'Toole, the boar on Torc's sign represents hospitality and feasting and both of those things you're sure to get when you arrive.  If you're feeling adventurous after a full day of tastings, go for the wine pairings with your courses and try an assortment of dishes from the charred Padron Pepper appetizer to the main lobster risotto to the Schmitz ranch beef short ribs (these are truly amazing).
If you've accomplished everything on this itinerary you'll most likely want to call it a night, especially if you're up early the next morning for another grueling day of tastings.  Cheers!
So here's the overview:
1. Chateau Montelena, 1429 Tubbs Lane, Calistoga (707) 942-5101
2.  Venge Wineyards, Vineyards, 4708 Silverado Trail, Calistoga (707) 942-9100
3.  Domaine Carneros, 1240 Duhig Road, Napa (707) 257-0101
4.  Bouchaine Vineyards, 1075 Buchli Station Road, Napa (707) 252-9065
5. Torc, 1140 Maine St., Napa (707) 252-3292
Two important notes – definitely schedule your tasting in advance of your visit to the area and give yourself 2-3 hours between appointments.