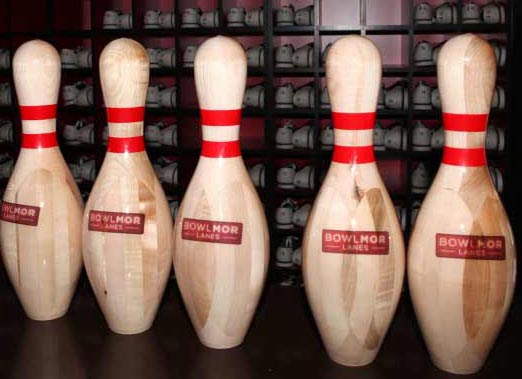 NY – Looking for some fun and games in NYC?  It seems like we're constantly asked for ideas on where to take kids in the city.  Especially if we're talking about a co-ed group over the age of 10, the answer to that question can be tricky.   One of our favorite kid-friendly afternoons may not be culturally on par with the Met or Lincoln Center, but we've never struck out with this indoor game plan that's especially ideal on a cold winter or hot summer day–and, as day turns into night, isn't just for the kids!
1. Since 1938 Bowlmor Lanes has been a Union Square destination (if not a Greenwich Village landmark), for the bowling pro as well as the novice.  With 44 glow in the dark lanes on two floors, the alley is complete with video screens, lane-side food (courtesy of David Burke) and drink service, as well as a DJ most nights.  But trust us, you won't want to spend all your time in one place.  Play one or two rounds and then make your way upstairs!
2. On the top floor of Bowlmor Lanes is Greenwich Village Country Club, a spacious 16,000 sq. ft. playground which features a kitschy jungle-themed nine-hole miniature golf course, a bocce court, foosball, air hockey, shuffleboard, an arcade, billiards and even beerpong.  FYI, the spot is also ideal for private parties. For those over 21, there's a festive sports bar featuring an assortment of fancy cocktails and of course more finger food (same as downstairs) to fuel your competitive side while plenty of games, as well as the modern classic Caddyshack, play on a nearby flatscreen.
3. If you're ready for a real dinner or simply a late night supper, we suggest heading a few short blocks over to Enoteca OTTO Pizzeria.  Modeled to look like a bustling Italian train station, OTTO, (meaning "eight" in Italian–it's located on the corner of 8th Street and Fifth Ave) is the mastermind of celebrity chef Mario Batali.  The pizzas, pastas and salads are perfect for a larger crowd of any age and the menu is reasonably priced and seriously delicious!