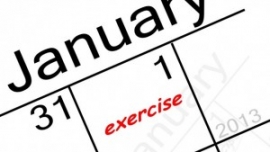 NY – Wondering where to get the best New York City workouts in 2014?  We've compiled our four favorite (and distinctively unique) workouts in The Big Apple guaranteed to shred you to pieces and make your New Year's resolution a breeze.
1. There is no better workout to burn calories and work up a sweat than spinning.  Just ask our entertainment and lifestyle guru Mindy Kobrin about Soul Cycle or check out our past post on Flywheel.  So when we discovered under water spinning, we knew we had to give Aqua Cycling a try.  Located in a beautiful candle lit TriBeCa loft, you'll find a swimming pool filled with state of the art cycling bikes and a depending on what type of class you sign up for  you are guaranteed a great workout.   While there are many health benefits to cycle under water, we loved it because it was one of the best spins we had 100% sweat free!
2. If you're all about high-energy, you will definitely love Jumplife, a workout done in the dark under a disco ball on your own individual trampolines.  On any given day you will probably be taking a class with the founder/owner Montserrat Markou who turned her childhood passion of jumping into a rebounding phenomenon.  There's a class for everyone  including JumpDance, a high intense cardio workout complete with club music and lighting, JumpGym incorporating weights for muscle definition, and JumpFusion, a mind-body slower paced class.  There's even JumpKids!
3. If you want a movie-star worthy body look no further than Physique 57, the workout of choice for Zooey Deschanel, Kelly Ripa and Christy Turlington.  The class is all about body sculpting using your own weight as resistance targeting muscles to the point of fatigue and then stretching them out for relief.  One hour of Physique 57's muscle defining arm exercises, intense thigh and seat sequences and waist chiseling ab moves will leave you a little shaky, but its all worth it as they promise you will see results within 8 classes!
4. But our #1 choice for the best NYC workout is a run around the Jacqueline Kennedy Onassis Reservoir in Central Park.  Originally built to provide clean water for the city, the 1.58 track that encircles the 106 acre body of water now provides runners with some of the best views of the skyline.  Not only was this the favorite jogging spot for Jackie O, today you may bump into Bill Clinton or Matt Damon.  All you need are a pair of good running shoes and decent weather.