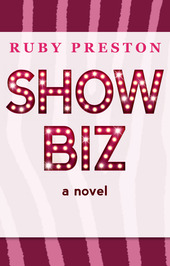 NY – Showbiz, A Novel is the ultimate insider's view of the delicious (and malicious) world of Broadway. Through Scarlett Savoy, the smart, sassy, Broadway show-producing heroine, learn what it really takes to get a show up on the great white way.   Spend an evening following in Scarlett's footsteps and see for yourself how the deals go down and shows go up.
1. Scarlett works on 44th and Broadway in the famed Shubert Building – which has housed some of the most important Broadway names of all time. Like many Broadway insiders, Scarlett starts many an evening downstairs at the 100 year old theater district institution, Sardi's. The dining room is well worth a visit, but on a young producer's budget, the house wine at the second floor bar always hits the spot. From your bar stool, take in the comings and goings in Shubert Alley and see which Broadway stars are late clocking into their shows. Not the place to tell your showbiz secrets, Sardi's is a great place to hear some!
2. Scarlett's favorite pre or post theater dinner spot is Becco, just a few blocks away on 46th Street's Restaurant Row. All you can eat pasta and an extensive wine list (both coming in at less than $25 each), make it an industry favorite (and a lifesaver for those of you saving your money for theater tickets). Just be sure to make reservations: the secret's out on this one and it's no surprise that it's always bursting at the seams. Be sure to get to know your servers…you just might see them on Broadway next season!
3. If you're as big a theater fan as Scarlett, you've already hoofed it to every Broadway show on the block. Lucky for you, you can now delve deeper into the showbiz world at the brand new Broadway hot spot, 54 Below. Tucked away in the basement space underneath famed Studio 54 on 54th Street, this new cabaret venue, created by a team of Broadway producers, is the latest place to see and be seen. With a line up of Broadway glitterati on the stage (not to mention on the guest list), it's well worth a visit for cabaret and cocktails any night of the week.
Speaking of basement bars, no showtune lover's evening would be complete without a final stop at one of the few remaining piano bars in the city. Hop on the 1 Subway or grab a cab to Marie's Crisis on Grove Street in the Village. It's standing room only at this mini but magical mecca of musical theater. Don't worry if you can't sing, you'll never hear your own voice over the enthusiastic room of singers and fans. All those showtunes you usually save for the shower will come in handy here!
After a long night out, curl up with your own copy of Showbiz, A Novel and join Scarlett for more Broadway adventures.
See you on Broadway!
NY Contributor: Ruby Preston.   For more about Ruby and Showbiz, the Novel, click here.