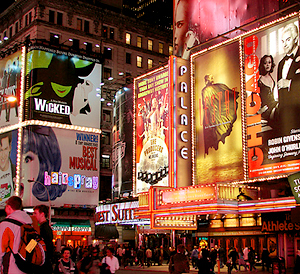 NY – With tickets upwards of $125 a seat, a kid's night on Broadway can cost a family of four a small fortune.  Which is why the annual Kids Night on Broadway week is always on our calendar.  This year the dates are February 24 – March 2 and the deal is you buy one full-priced adult ticket to a participating show and receive one free ticket for a kid who's between 6 and 18.   Tickets go fast, so check it out and while you're at it, mark your calendar now for next year!  So, what if you can't take advantage of that special week for one reason or another?  There's one show we think your family will enjoy any week of the year: Matilda.
1.  But first, you can't go to the theater hungry, so start things off with a full stomach.  One might think that pizza in Times Square is a no-no, however, once you've been to John's Pizzeria you seriously may not want to eat pizza anywhere else.  Located inside a beautiful old church, complete with a stunning stained glass ceiling, the ambiance is only second to the food.  The one negative would be that they don't take reservations, so make a big effort to arrive 90-minutes before your show.  Ready for the best part?  You can leave five minutes before curtain because the Shubert Theater is right across the street!
2.  Matilda the Musical is one of those Broadway shows that you might want to see even if kids are not with you.  It's got the whole package: based on a beloved book, great sets, wonderful costumes, a few memorable songs and actors who remind us how lucky we are to not have to see the touring production.  While the material is dark at times, it's powerful and a show that is totally original and unlike anything else you've seen.  A huge hit in London, see what the NY Times had to say about it.
3.  Looking for something sweet on your way home?  Drop in to Baked by Melissa on 47th and Broadway for bite-sized cupcakes.  Literally bite-sized (about the size of a quarter to be exact).  Flavors range from cookie dough to red velvet to peanut butter and jelly and even though they're small, one bite may just be enough.  Melissa's is also available online.