LA – I love to eat – everything.  Truffled Duck Mousse on one end of the spectrum, The Donut Man's Strawberry Donut on the other.   These days, my friends and I aren't rolling like we used to, so instead of dining out, we maintain our foodie status by throwing dinner parties.
Keeping it cheap and cheerful, I avoid the beautifully organic but gougingly expensive Whole Paycheck and way-too-many Gelt-sons markets and head toward the Asian food Mecca of the San Gabriel Valley (SGV), where prices are more down-to-earth and buying for an Italian dinner is almost as easy as for a Chinese one.  It's not crazy to drive to another area code to shop, I live in Hollywood, and driving to the SGV often takes less time than going to Santa Monica.
1.  But First, A Detour
If I need to impress my guests, first I'll stop by to get some flowers at the Flower Market on Wall Street between 7th and 8th Streets.  It opens at 6 AM on Saturdays and costs $1 admission.  The selection of freshly cut flowers is allergy inducing and overwhelming at first, but most high-priced west side florists get their flowers here.  Once you see the prices, you'll never bother with Trader Joe's again, or anywhere else.
2.  A Guy's Gotta Eat
From downtown, I hop onto the San Bernardino Fwy. (I-10) toward the SGV.  If you're heading to the SGV, you've got to eat at a local Asian restaurant, even if you're cooking dinner later that day.  It's a law.  I'm usually looking for my latest obsession – dumplings — especially those of the soup-filled kind from Eastern China.
Known as Shanghai Soup Dumplings (Xiao Long Bao), XLB are steamed dim sum-sized dumplings filled with a meatball surrounded by a tablespoon or so of rich stock.  That's right.  Soup-in-a-dumpling.
Be careful eating them or the soup will spew out all over your newly ironed shirt and just-bought Burberry tie.  Ask me how I know.  The best way to eat XLB is to pick them up very carefully (fingers okay) so as not to pierce the skin and let the soup drain out.  Place them on a soupspoon, pour on some black vinegar and top with sliced ginger.  Delicately bite the top of the XLB and slurp out some of the soup.  Watch the temperature of the dumplings because the soup will scald your mouth if you eat the XLB too quickly.  But really, good luck in trying to eat one slowly.
Some good ones can be found at the only US branch of Din Tai Fung in Arcadia near the racetrack.  DTF serves dozens of different kinds of soup dumplings, and it's my goal to try them all.
3. Ethnic Supermarkets
So finally, I get to the ostensible reason for coming out to the SGV, buying groceries at the ethnic supermarkets.  One of the largest in the area is the 99 Ranch Market, located in the San Gabriel Square.  Stocking an enormous variety of groceries from all over Asia, it also has a wide selection of Western groceries, so I shop there if I'm cooking Asian, French, Italian, Mexican, or just about anything else.  There are branches throughout Southern California, but this one seems to be the biggest and most popular.
I usually come for the Asian pantry products, like soy sauce, rice vinegars, and rice – there's an entire aisle dedicated to different types of rice.  Hint: the Japanese short grain sticky rice is a great, low cost substitute for Arborio rice in risotto; the long grain Thai Jasmine rice is great for paella.  Instead of getting a $15 bottle of Sherry from Spain, I get the $3 bottle of Shao Xing Rice Wine, which is a close substitute.  There's another aisle for fresh noodles – soup noodles, chow mein noodles, rice noodles (great for the gluten-intolerant), and my favorite won ton wrappers.  Won ton wrappers are versatile.  I can make boiled, steamed, or fried won ton, or stuff them to make ravioli or tortellini.
They've also got a vast array of Western and Asian produce.  In season, you can find Chinese long green beans, dragonfruit, and any type of Asian green leafy vegetable imaginable, juxtaposed with eggplant, butter lettuce, and shallots.  Caesar salad made with Napa cabbage, anyone?  More and more, I'm seeing Caucasians, Latinos, and African Americans shopping here.  Why?  I went there last week for an Italian dinner party for 6 at my house.  You'd be amazed at what you can get for half the cost.
Their butcher will customize your meat order (get a number) and select a live crab or catfish from the tank.  Check out these razor clams.  You won't find this variety or that level of freshness on the Westside, especially at these prices.
There are several other great Asian markets in the SGV – Hawaii Supermarket across the street from 99 Ranch in San Gabriel, and the San Gabriel Superstore, which sells clothes and home goods as well as groceries.  You can try them all and make a day of it.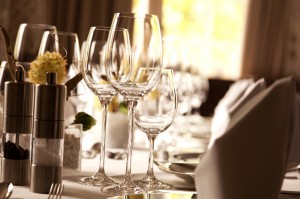 So for your next dinner party, you can take out a loan and shop at an expensive local supermarket, or drive to an ethnic enclave and see what you can find.   I can't guarantee you'll find parmigiano reggiano, but you might find a palate expanding and likely cheaper substitute.  And don't forget about the foodie bragging rights that you're exploring all of the amazing grocery stores that make up the true food scene in Los Angeles.
For more on Steve, click here.