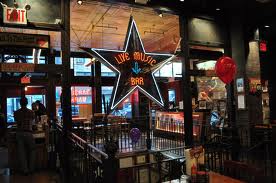 NY – Summer just isn't complete without a backyard BBQ.  But what if you live in the city? Don't fret, these two joints in the Flatiron will make you forget all about your backyard!  
Hill Country BBQ
is the real deal, channeling all of the testosterone cowboy charm from Central TX.  Just walk in, grab a meal ticket, and head over to the meat counter.  Choose your dry-rubbed smoked meat served sans plate in butcher paper and your sides and sweets, pick a seat family style in the dining room and enjoy your meal.  When you're finished, your meal ticket is your bill and you pay as you leave.  Oh and did we mention music?  Check out the
Boot Bar
downstairs  for the best live country music Tuesday thru Saturday nights.
Now if your idea of down-home southern BBQ is fried chicken and comfort food, check out the retro 60's style diner Hill Country Chicken(complete with a wood paneled basement downstairs), right around the corner.  Saddle your way through the buffet line and try the many combinations of fried chicken, biscuits and mac and cheese.
And now we've saved the best for last: THERE'S PIE and lots of it.  Pies are baked fresh daily, so grab a slice or a whole pie and indulge!  They'll even toss your pie in a milkshake — they call it the pie shake.  We call it heaven.