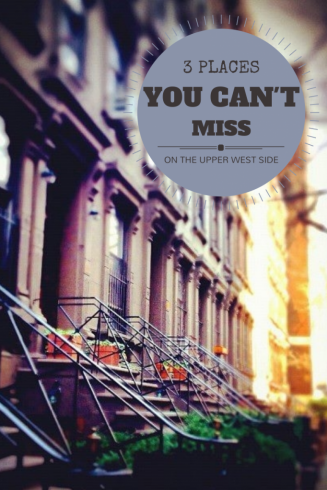 NY – On a recent spring break day we found ourselves scrambling for a new twist on an old activity as family came to town and everyone wanted to go to the Natural History Museum. Of course, it really can be incredibly challenging to build the right game plan when you've got children of different ages to consider. Fortunately, this Upper West Side afternoon had a little something for everyone. The best part? You can enjoy these activities any time of year.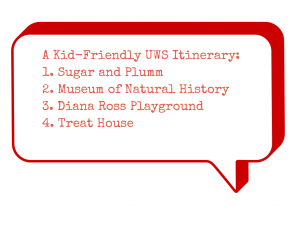 Start with breakfast or lunch at this adorable and delicious "boutique bistro." The spacious spot is well lit, extremely kid and stroller friendly (complete with a changing station in the bathroom) and has a sinful chocolate retail section!
The menus (there are several categories) have a little something for everyone from high end comfort food (like the Buckwheat Ham and Gruyere Crepes or the Cheese and Mac, made from local artisan cheese and golden breadcrumbs) to the insane dessert menu (ask about the Earthquake in a Fishbowl).
If you don't have much time for a sit down or want to grab something on the go, there's also an easy to-go counter where you can buy their homemade macarons, chocolates, muffins or simply a coffee. We have a new stomping ground!
2. American Museum of Natural History
Of course we love the giant whale, the dinosaur fossils, the planetarium and the butterfly conservatory, but just when you think you've done it all, it seems there's something new to discover at this iconic museum.
If you only had time to see one thing, we'd strongly suggest The Power of Poison exhibit.  At first leery of whether or not it would be age appropriate, we were pleasantly surprised to find the kids were mesmerized from the moment they entered the dramatically lit installation where they learned about poison's roles in nature, human health and myth (including fairy tales, the classics and modern fiction – from Snow White to Harry Potter).
Plan on spending a solid hour here and you won't be checking your watch!
It may be hard to believe that your kids could be up for running around after spending time in the museum, but we found there was still plenty of steam to let out.  Fortunately there's a perfect playground (funded by the singer Diana Ross), just a block north at the corner of CPW and 81st St.
Here you'll find the staples: a large, fully-enclosed area featuring a wooden play structure complete with a climbing net, bridges, firepoles, slides, ladders, sand, bucket swings, a sprinkler and plenty of benches for a rest of your own.
If you're jonesing for one last afternoon nosh, check out The Treat House. CBS New York says,
"While Manhattan is no stranger to trendy desserts and food fads, the team at Treat House is ready to compete with the likes of frozen yogurt, craft cookies, doughnuts and of course, cupcakes."
We're talking every kind of marshmallow treat (over 25 flavors) you can image (these are essentially fancy Rice Krispy treats). Most items are gluten-free and nut-free (some dairy-free) and are lower in fat and calories than other similar desserts.
Their menu includes breakfast bars, pops, flavored marshmallows (like mint, mango, chocolate and raspberry), ice cream bars and Stumptown Coffee. While the space is on the small and narrow, there is a fun, treehouse-style kid hangout in the back, complete with kid-sized seating, a chalkboard to draw on and a lovely swing to hang out on.
377 Amsterdam Ave (between 78th and 79th)
New York, NY 10024
212-787-8778
2. American Museum of Natural History:
Central Park West and 79th St.
New York, NY 10024
212-769-5200
3. Diana Ross Playground in Central Park:
Central Park West and 81st St.
New York, NY 10024
212-310-6600
4. The Treat House:
452 Amsterdam Ave. (between  81st and 82nd)
New York, NY 10024
212-799-7779
UWS Photo Credit at Top: Elizabeth Brack